Member's Update - New Term, New Home, New Clothes...
Hi everyone!
Welcome to Easter term! We at Purple have had plenty of fun setting up our temporary station over at the Student Union, alongside delving into the derelict crypt that was once the home of the radio. It was pretty sad to see it compared to how it once was, but hey, we found a box full of t-shirts, so that's my wardrobe sorted out for the next month.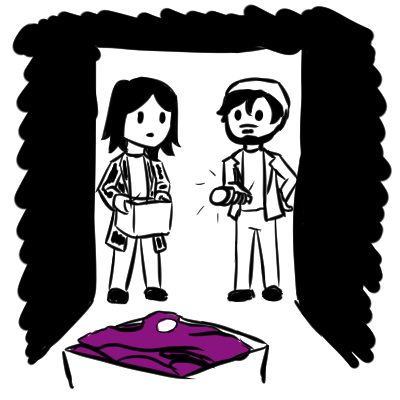 Anyway, with that said, we were able to get everything cleaned and tidied up, all ready for…
In-person Broadcasting!
That's right, we're back in the (temporary) studio from Tuesday 4th onwards. We've got a handful of shows all ready to check out the fancy mics and decks we have starting next week, and we can't wait to actually meet some of you guys in person! If you tune in and decide "yeah, I want to get in on that action" then drop us an email at [email protected], with your show name and usual time, and we'll see if we can slot you into our station schedule. Remember, all shows in the station will (for now) require 2 LFTs every week and will only be allowed inside on weekdays between 8am and 6pm. Also, for anyone that didn't happen to randomly tune in on Friday at around 2:45, you missed the totally cool secret exec show hosted by Jo and myself, which definitely wasn't us just testing all the equipment. More episodes to come? The only way to know is to tune in!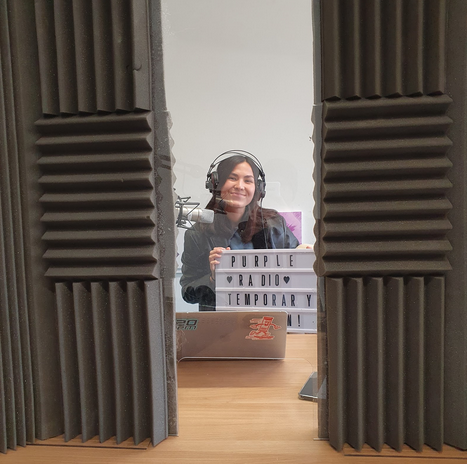 (Oh and here's Station Manager Jo welcoming you back to the "temporary n". Really should've checked that photo before leaving.)
Get your show/podcast featured!
Got a show or podcast that you want us to feature on our social media? Thanks to Jessie, our new Head of Promotions, you can tell us all about it! Simply fill out the form over at https://forms.gle/utz3cwSN7qUBwJbGA and we'll promote one of them each week on our instagram. Don't worry if you've filled out the form and haven't been featured yet, we'll get to you eventually! A quick note on that actually, if you have an instagram account which you use to announce your show going live, make sure to tag us @purpleradio in the story so we can share it for you there as well!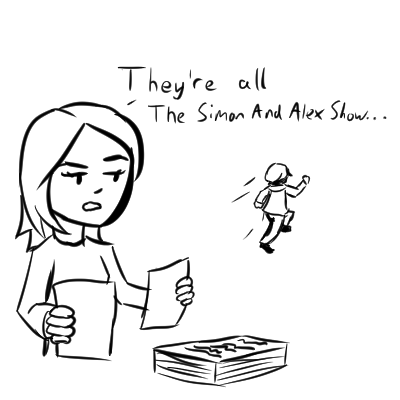 Busy this term?
Can't keep up with your show as the exam season goes on? No worries, we get it! Just make sure to drop us an email at [email protected] to let us know you won't be broadcasting for a bit. Just helps us out organising the schedule properly.
Highlight of the week!
If you guys haven't already been tuning into DU Audio Drama Society's production of The Three Musketeers every Monday and Thursday at 8pm, you've been missing out! It's been masterfully crafted with excellent acting, writing, and sound design, and is an absolute joy to listen to - I eagerly await each new entry! If you've missed the first couple of episodes you can find them over on https://anchor.fm/duads-three-musketeers/. If you enjoy tales of chivalry, swashbuckling, and adventure, I can't recommend it enough!
And that's all for this week! I'm looking forward to meeting some of you all as things start opening up more over at the station. Before cooking white rice, make sure to wash it by soaking it in water, swirling it around by hand so as to not break any of the grains, and draining the water. Do this around 3-4 times to remove starch from the rice, giving you a fluffier, better-smelling, and longer-lasting dish.
All the best,
-Simon
Recent Posts
Why don't you check some of our other posts?